Receive the Security Rating of Any Organization in Your Mailbox.
Recent publications
Cybersecurity at dutch hospitals can still be improved
2018-02-27
Cybersecurity at dutch hospitals can still be improved
2018-02-27
Hospitals are regularly in the news for outbreaks of malware or because they are victims of ransomware attacks. Time to investigate whether Dutch hospitals have their cybersecurity in order.
Of 85 Dutch hospitals, all their websites, mail servers and other internet systems have been mapped . Subsequently, a basic security check was performed.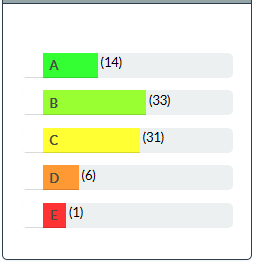 Amount of hospitals per security rating, checked 27-Feb-2018.
A=Good, E=Vulnerable.
Click on diagram for more results and names
The research shows that half of the hospitals have cybersecurity good or sufficient in order. However, there are 7 hospitals that clearly need to get in action. More details with the names of well-scoring hospitals can be found here.
The problems encountered mainly relate to inadequate network encryption, the use of very old software and mail servers that are known to send spam.
It is noteworthy that there is no academic hospital in the list of best-scoring hospitals. Furthermore, the worst score is of a hospital that has stopped activities. Of this hospital, an old website is still hosted that has not been managed for three years and contains multiple serious vulnerabilities. This website has no added value for anyone, except for a hacker, who could compromize the server and then use it to launch attacks against third parties.